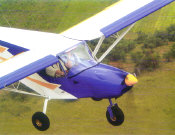 African Pilot

magazine (South Africa, June 2005 issue) featured Rolf Duetsch's STOL CH 701:

"At this stage, well over 500 STOL CH 701s are already flying on all continents, mostly in off airport environments. Missionary work in Tanzania and Zambia, anti-poaching patrols in Ghana, doctors in northern Thailand, flying training in India. The STOL CH 701 stands as one of the few light planes to serve in the sort of serious utility roles usually reserved for larger airplanes such as the Helio Courier, Piper Super Cub, Maule or Aviat Husky. Its stellar short field capabilities and slow flying characteristics make it ideal for any bush or farm operation: herding, surveying, patrolling and protection services.

"The STOL CH701 has a great following worldwide and also enjoys a huge presence on the Internet from builders and aviators alike.

"This fantastic little aircraft is the design of accomplished and well-known aeronautical engineer Chris Heintz, who is a graduate of the E.T.H. in Switzerland. Pilots around the world owe a debt of gratitude to this creative engineering genius.

African Pilot magazine, June 2005 issue, pages 53 - 56.