Zenith Aircraft Company's second "Spring into Summer" Fly-In Gathering is scheduled for Saturday, June 27, 2009, at the factory located at Mexico Memorial Airport in Mexico, Missouri.
This is an informal grass-roots fly-in gathering open to all aviation enthusiasts, especially builders and owners of Zenith Aircraft kit planes.
Owners of completed Zenith Aircraft are encouraged to fly-in for the activities and to show off their completed project to fellow builders (we will provide tie-down space and help facilitate ground transportation if possible). Let us know of any special needs or requirements. Please bring tie-downs for your aircraft if flying in, and bring yourself a lawn chair if driving in.
The Zenith Aircraft factory will be open from 8:00 am - 3:00 pm for self-guided factory tours, demonstrations, and more, throughout the day.
Food and refreshments will be available for lunch and Zenith will also have coffee and donuts available in the morning.
Factory workshop: June 25 & 26
On the two days immediately prior to the Spring Fly-In Gathering, Zenith is hosting one of its popular two-day factory workshops where participants gain hands-on kit aircraft building experience. (Prior registration is required to attend the workshop).
Factory demonstrator aircraft:

Please contact us if you have ideas, requests or capabilities to help make this Fly-In Gathering both a fun and educational event.
Accommodations: There are several hotels in Mexico and in the general area, as well as camping sites. Click here for additional information on accommodations.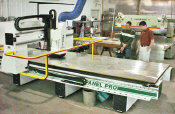 The 18th annual Zenith Aircraft OPEN HANGAR DAY and Fly-In Gathering is scheduled later in the year: Saturday, September 19, 2009, at the Zenith Aircraft Factory in Mexico, Missouri.
Located in scenic mid-Missouri, all pilots and aviation enthusiasts are invited to drive or fly in to attend Zenith Aircraft Co.'s fly-in gathering. For more information on attending, please call Zenith Aircraft at (573) 581-9000.