Zenith Aircraft Company
OPEN HANGAR DAY



Saturday, August 19, 2006
Mexico Memorial Airport, Mexico, Missouri
A few scenes from 2006:
---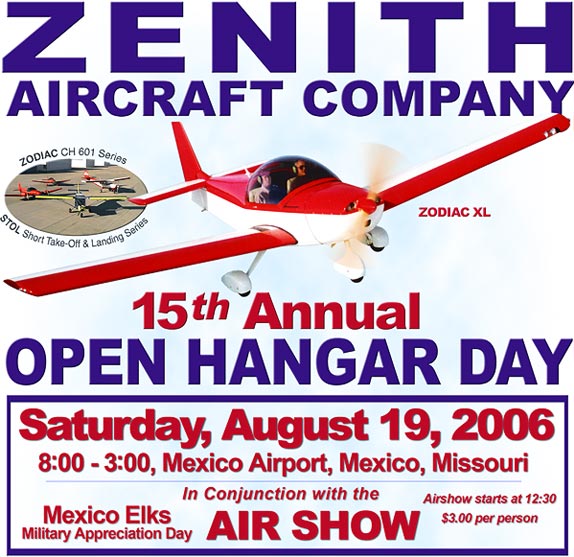 Zenith Aircraft Company's 15th annual OPEN HANGAR day was held on Saturday, August 19, 2006, at Mexico Memorial Airport in Missouri.
The 20,000 sq.ft. Zenith Aircraft kit production facilities were open to the public for factory tours and Zenith's factory-demonstrator kit aircraft will be on display. The company's new 12-foot CNC router was busy producing parts and factory staff was on hand to demonstrate light aircraft manufacturing techniques. A Zodiac XL kit was also on display.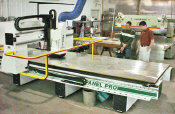 One the same day, at the same airport, Mexico hosted its first-ever Mexico Elks Military Appreciation Day Airshow, featuring performers from Dave Dacy Airshows. The airshow started at 12:30 pm.
More than 500 aviation enthusiasts visited last year's Open Hangar day, and numerous aircraft flew in from across the Midwest to attend the annual event, including antique and other kit aircraft designs. For more information on attending the Open House call Zenith Aircraft at (573) 581-9000 or the Mexico Memorial Airport at (573) 581-0162.
Because of the airshow, demo flights will be limited.
Pilots: Note that the airport will closed to traffic during the airshow (probably between 12 and 3 pm). Review the NOTAM before flying in.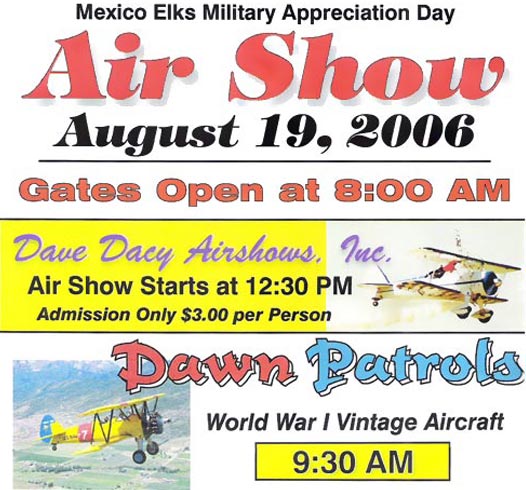 Mexico Elks Military Appreciation Day
Air Show
Schedule of Events
Saturday, August 19, 2006
Mexico Memorial Airport
Admission $3, 12 & under free
Static Displays:
WWII Aircraft
Rusty Wallace's racecar will be on display
German WWI Fokker

E-IV Airplane

1931 Great Lakes Bi-Plane completely restored by E.B. Feutz
Air Evac Helicopter
Military Humvees by MO National Guard
Military Bradley by MO National Guard
Blackhawk Helicopter from the MO National Guard take off around
Various WWI Vehicles
Classic Cars
Zenith Aircraft factory demo airplanes.
Planned Events:
- Tim Jesse – flying in and landing his wingless, powered parachute flying machine.
8 am – Dr. Robert Searfoss & Charles Kehl w/ their club from Mexico will be displaying classic model airplanes.
8:30 am – C-47, Blackhawk and Apache Helicopter will arrive for display.
– Dawn Patrol – WWI airplanes out of Kansas City – will do some flying formations, smoke trails, etc.
– the Echoes – local musical group will be playing music from the 40, 50, 60.
–Prayer of thanksgiving by Rev Randy Sawyer
- Doug Bebrick from Skydive Rolla will parachute in with a US Flag during the National Anthem sung by Frances Chrisman.
– Dave Dacy Air Show (main attraction) – four aircraft overhead salute, Dave Dacy flying a Super Stearman Solo, Joe Dooley flying a Pitts SIS, Clyde Zellers doing Navy Aerobatics & Jim Maroney flying a Super Chipmunk. The finale will be Dave Dacy flying and Tony Kazian wing walking.
Light aircraft from all over the country arriving all day for the Zenith open house and air show.
The Zenith Aircraft Co. factory will be open from 8 am - 3 pm.
Other Activities
All Day (except during air show): Airplane rides in Cessna @ a cost of $25/person & Bell 47 helicopter giving rides at $35 per person.
Bounce houses for the children at a cost of $3 for all day
Drug Awareness Trailer
Blue Angel F-4 Phantom Cockpit for Dream Photos for a $10 fee.
Note: Schedule, prices and events subject to change.
---

[Back]