January 12, 2005 (from EAA):
David Henry Wins EAA Land-A-Member Zodiac XL Kit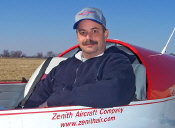 David Henry, a 24-year EAA member from Perry, Oklahoma, is the lucky winner of a complete, ready-to-build Zodiac XL kitplane and Rotax 912S powerplant package through the 2004 EAA Land-A-Member contest. "Holy cow!" Henry exclaimed when EAA President Tom Poberezny called on Tuesday to deliver the good news. "I am tickled to death, thank you so much!" Just to verify his good fortune, Henry then asked, "You want to run that by me again?"
Click here for more details
---
Zenith Aircraft Company to provide Aircraft Kit for EAA's 2004 Land-A-Member sweepstakes.
December 1, 2003

: Reported in the December issue of Experimenter magazine, a monthly publication of EAA (Experimental Aircraft Association):
EAA Membership Services is busy preparing the 2004 EAA Land-A-Member sweepstakes which begins in January 2004. The grand prize for the 2004 Land-A-Member sweepstakes is a new sport-pilot ready Zodiac CH 601 XL and a 100-hp Rotax 912S engine, provided by Zenith Aircraft.

Participating in the 2004 Land-A-Member sweepstakes is easy. If your EAA membership is current at the end of 2004, you're eligible. In addition, if you help fellow aviation enthusiasts join EAA, you receive extra chances to win! Complete details will be available in January 2004 at www.eaa.org/landamember.
---
[Back]