A Lot Has Happened in 30 Years
…and Chris Heintz Made a Lot of It Happen
EAA Airventure - July 28, 2004
Since the mid-1970s, a lot has changed in aviation, and particularly in light aircraft. Chris Heintz has been behind much of the innovation and improvement, and he is reviewing his 30 years as a light-aircraft designer in a special forum at AirVenture in Oshkosh, Wisconsin, on July 28, 2004.

Single-seat, two or four-place, and with one or two engines, all of Chris Heintz's designs (a dozen have seen commercial production) have represented the French-born Canadian test pilot and engineer's appreciation for simplicity and affordable performance.

With materials and design that mirror certified-aircraft practice and a mechanic's sense of "buildability" and maintainability, Chris Heintz has demonstrated time and again that good-flying airplanes don't have to be complicated and expensive; and there are over fifteen hundred flying examples that prove it. It's not just his engineering background that helps him stand out (his engineering degree is from the ETH Institute in Switzerland - Eidgenössische Technische Hochschule Zürich); it's his sense not just of what works, and what can be built – but of what can be built, mistake-free, by first-timers – that yields such successful results.

A legend in the kit-building community, Chris has also been an engineer on certified aircraft, from deHavilland and Avions Robin, to his own-design Alarus CH2000 trainer and personal airplane, the lowest-cost FAA-certified all-weather trainer in the world.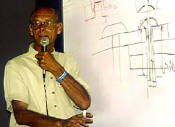 EAA show attendees have come to know Heintz and his sons, watching in awe as that team would build an airplane from kit through test flight in a week at many different airshows. Now, with the sons grown up and running their own airplane companies, Chris has a relaxed moment to share with generations of past, present and future builders the history and philosophy of bringing simple, responsible design to the public. He will be giving that insight to the people who can most appreciate it: the builder-pilots of the world, in their largest venue, at Oshkosh .
The forum will be held at EAA Airventure on Wednesday, July 28, at the National Consortium for Aviation Mobility, from until
---
More Info: