NEWS RELEASE
For Immediate Release: July 2001
For More Information:
media@zenithair.com
STOL CH 701 Update: New 4th Edition Drawings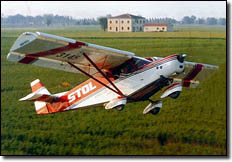 Mexico, Missouri -- With the release of the 4th edition STOL CH 701 drawings, designer Chris Heintz has introduced a number of design updates to the popular STOL CH 701 short take-off and landing (STOL) kit aircraft.
The design gross weight of the two-seat all-metal aircraft has been increased from 960 lbs. to 1,100 lbs. to better accommodate the installation of new engines such as the 100-hp Rotax 912S. New wing tanks (2 x 10 US gal.) are now standard equipment with the design, as well as new top-hinged "swing-up" doors and a formed acrylic windshield. The new 4th edition blueprints are CAD-drawn for maximum clarity and detail.
"Since its introduction in 1986, the STOL CH 701 design has undergone very few design changes," explained designer Chris Heintz. "With the advent of the Sport Pilot category, we decided to increase the gross weight of the design, while keeping all the high-lift features of the design intact. This design continues to gain popularity with sport pilots around the world despite the fact that it was introduced 16 years ago. All-metal durability and great STOL performance make the 701 a great light 'bush-plane'."
The high wing STOL CH 701 design features fixed leading edge wing slats to provide excellent short take-off and landing performance and great grass-field (off airport) capability. A typical take-off distance (roll) is less than 100 feet.
Due to the popularity of the STOL CH 701, a four-seat utility version of the design was introduced in 1998 to offer the same short take-off and landing (STOL) capability with up to 1,000 lbs. useful load.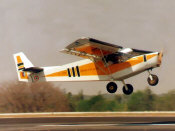 The STOL CH 701 design can be constructed from plans-only (scratch-built) or can be built from a complete factory kit from Zenith Aircraft Company of Mexico, Missouri, in as few as 500 hours.
Since 1986, more than 500 STOL CH 701s have been completed by builders around the world. The National Cadet Corps of India recently ordered 85 aircraft to use for flight training in India, and the aircraft is also being produced (factory-assembled) in the Czech Republic for the European market and other countries where it is a popular "microlight" aircraft.
---
---
For further information:
Zenith Aircraft Company
Mexico Airport, Mexico, Missouri 65265-0650 USA
Tel: 573-581-9000
Fax: 573-581-0011
E-mail: info@zenithair.com
---
[Back]