ZENITH AIRCRAFT @ WORK & PLAY AROUND THE WORLD
Malaysian pilot flies first experimental aircraft across South China Sea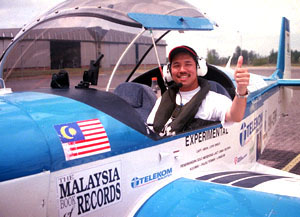 Pilot Abdul Latiff Endot in his ZODIAC aircraft which took him across the South China Sea, April 5, 2001.
LANGKAWI, MALAYSIA, April 5, 2001 - Youth and Sports Minister's senior private secretary Abdul Latiff Endot made history as the first Malaysian to fly solo in an experimental aircraft across the South China Sea.

The flight covering 745 kilometers from Kuching to Pulau Tioman in a ZODIAC CH 601 kit aircraft yesterday made it in the Malaysia Book of Records. Malaysia Book of Records managing director Danny Ooi then handed a certificate to Youth and Sports Ministry Secretary-General Datuk Mahamad Zabri Min for the record-breaking flight across the South China Sea.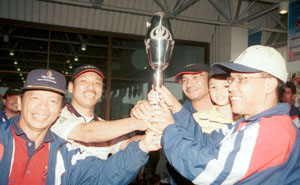 James Masing (L) Abdul Latif Endot, Hishamuddin and Syed Razak Syed Zain (R) hold aloft the 21st SEA Games torch after pilot Abdul Latif landed in Langkawi with the torch, April 5.
The aircraft also delivered the 21st SEA Games torch, marking the start of the peninsula leg of the SEA Games Run. The Southeast Asia (SEA) Games Torch which was carried by runners over a distance of 3,098 km in Labuan, Sabah and Sarawak arrived on Pulau Tioman at to be ferried across the South China Sea in the Zodiac aircraft. Various side shows and cultural performances have been arranged in conjunction with the torch run in all the districts across Malaysia.
The Rakan Muda Air Recreation aircraft Zodiac CH601 HD-9M ERM aircraft was built by Malaysian youths under the Rakan Muda Recreation Flight program in collaboration with Kenari Technology Sdn Bhd. The aircraft was built by the first group of participants under the Rakan Muda Air Recreation under a program organized by the Youth and Sports Ministry, in collaboration with the Malaysia Experimental Aircraft Association. They took nine months to build the aircraft which received the approval of the Civil Aviation Department in September 1997.
Pilot Abdul Latif, Private Secretary to the Youth and Sports Minister, said his spirits remained high to prove that a Malaysian could make the solo flight across the South China Sea in a Malaysian-built plane.
Additional Information:
[Back]