NEW Dynon SkyView 10-inch glass panel with power panel and new Dynon COM and intercom:
Zenith Aircraft Company supplies complete instrument panels and avionics kits to help builders complete their own custom instrument panels, using the most modern available avionics.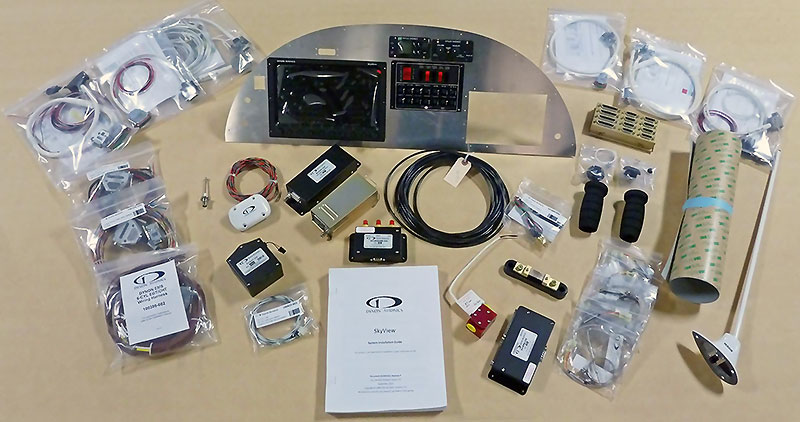 The complete Instruments / Avionics Package for the Zenith CH 750 includes the following:
PRE-CUT INSTRUMENT PANEL
NIMBUS PANEL COVERING (GREY)
DYNON SKYVIEW 10-inch DISPLAY
DYNOM COM RADIO
DYNON INTERCOM
RSP-1 POWER PANEL
APPROACH WIRE HARNESS
SV-XPONDR-262 SKYVIEW (Dynon)
MODE S INTEGRATED TRANSPONDER

RAC STICK GRIPS G101 
FUEL FLOW TRANSDUCER
INTERNAL LI-ION BACKUP BATTERY
OUTSIDE AIR TEMP (OAT) PROBE
COM ANTENNA AV-10
TRANSPONDER ANTENNA
ANTENNA WIRE AND BNC CONNECTOR
ENGINE PROBE (CHT AND EGT SENSOR)
(Equipment and details subject to change)
Contact us for details on available Garmin avionics or other requirements you may have.
Below: Instrument Panel, as equipped on the STOL CH 750 prototype factory demonstrator aircraft (for the Continental O-200 engine).

Move your mouse pointer over the panel for description...