Zenair Press Release:
January 11, 2010
---
Zenair Ships First Amphibious Float Kits.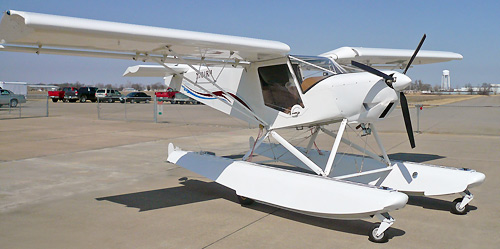 Zenair Amphibious Floats on the STOL CH 701
Less than a year after announcing it would be returning its float production to North America, Zenair Ltd. has begun deliveries of its light-weight all-aluminum floats. Following the announcement at AirVenture 2009, the design upgrades and production tooling took place in the fall of 2009, including preparation of new assembly drawings for floats sold as kits. Manufacturing of the amphibious floats started in November, with the first ready-to-assemble kit delivered in December. In early January 2010, Zenair delivered its first complete set of amphibious floats.
"The production of kits and ready-to-mount floats for light-weight aircraft is up and running," says Nicolas Heintz, in charge of the Zenair floats at Zenair ltd; "we are now finalizing drawings and tooling for our larger 1,400 lbs LSA floats, and should be ready to ship in early spring 2010."
Zenair Floats were first introduced in the mid-eighties and quickly set the standard for all-metal floats for ultralight aircraft. They were the lightest and sleekest floats available for ultralights and were soon seen across the continent on early models of Quicksilver, Kolb and Lazair designs, and later on the popular STOL CH701 aircraft.
Today, Zenair Floats are available in a variety of sizes (displacement) and as straight or amphibious floats (with wheels). With their generic spreader bar/mounting system, the floats will fit most light aircraft. The 1,400 lbs. LSA float, with rigging, is available for Zenith's popular STOL CH 750 light sport utility aircraft, as well as many other LSA-class aircraft.
For more information, including available sizes, kit options and prices, visit the Zenair website at www.zenair.com or call 705-526-2871.
On the web: www.zenair.com or http://www.zenairulm.com/Floats/index.htm
---
[Back]