The "Low and Slow" STOL CH 701 Finishes in
3rd Place in Italian Seaplane Race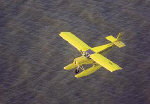 Milan, Italy: Chip W. Erwin, flying a Zenair STOL CH 701 finished in 3rd place in the 'Piccola' Schneider Cup race held on the Hydrostation Milan adjacent to Milan International Airport.
Erwin flew the STOL CH 701 over the Alps from the Czech Republic to attend the race. The defending race champion, Erwin flew a Zenair ZODIAC CH 601 amphibian across the Alps to Lake Garda to win the 1999 'Piccola' Schneider Cup race.
The first two places were taken by Italian Sky Arrows on straight floats.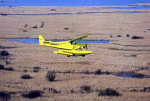 "I did not expect to place with the 701 due to its' lower speed. My main objective was to show how well the CH 701 performed all-around on amphibious floats." stated Chip Erwin. "I could take off quicker, climb better, and have better payload, plus greater land/sea versatility than other competitors. Making it to the race through poor weather and mountains (and Italian bureaucracy) was an accomplishment. Winning a trophy was certainly an unexpected added benefit."