NEWS RELEASE
from Sportplanes.com
FAA APPROVES FIRST FACTORY-ASSEMBLED CH601 AS AN ELSA
April 19, 2005 - Sun'n Fun Fly-In
Lakeland, FL - John Allen, Deputy Director of Flight Standards for the FAA, presented the first ELSA Certificate of Airworthiness for a factory-assembled Zenair CH601 at the 2005 Sun 'n Fun Fly-In. In presenting the certificate, Allen said: "We are pleased to be able to make it possible for distribution of this design as part of the ELSA category under the new rules for Sport Aircraft." Only moments before, Al Kimball, Aviation Safety Inspector for the local FSDO, had signed off on the aircraft in its logbook.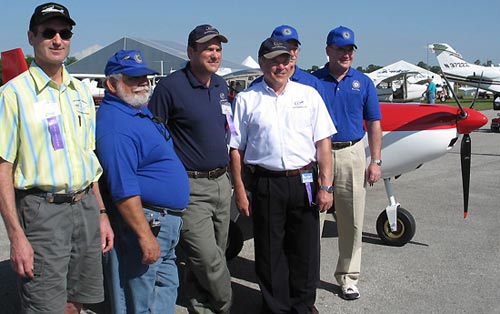 John Allen, Deputy Director of FAA's Flight Standards (second from left) presents the first CH601 ELSA Certificate of Airworthiness to David Johnson, Director of a Sport Aircraft Regional Center (center).
(From the left is Chip Erwin of Czech Aircraft Works, John Allen, David Johnson, Josh Foss of Sportsplanes.com, Fred Walker, FAA's Southern Regional Division Manager and Al Kimball, Aviation Safety Inspector).
"It's a momentous occasion," said Josh Foss, President of Sportplanes.com. "This clears the way for all of our Sport Aircraft Regional Centers to begin importing aircraft that will transform sport pilot licensing from an idea to a reality. And in June, we will begin to import CH601s that comply with the SLSA criteria. There is a tremendous need for these aircraft among flight schools that are spooling up to offer Sport Pilot training and there is an emerging demand for the aircraft from private individuals who want to learn to fly as Sport Pilots."