ZENITH AIRCRAFT AT WORK AND PLAY AROUND THE WORLD
Project Schoolflight Wins
"Excellence in Teaching" award
Reprinted from the Central Kitsap Reporter, August 1, 1998.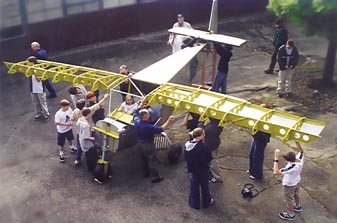 Central Kitsap Junior High's STOL CH 701 project.
---
CKJH plane wins state-wide award
Central Kitsap school is first junior high to win Vocational Association award.
BY AMY WOLD, Staff writer
Is it a good idea to give junior high students a pile of aluminum and say build a flyable airplane?
It's a very good idea.
The Central Kitsap Junior High School Project Flight program is being awarded the Washington Vocational Association's Program Award for Excellence in teaching. The award will be presented during the opening session of the organization's summer conference at 9 am. on Monday, Aug. 17.
Last fall, the local chapter of Experimental Aircraft Association Chapter 406, a Central Kitsap chapter, joined forces with Central Kitsap Junior High School shop teacher Steve Smith to form an after school project building an airplane.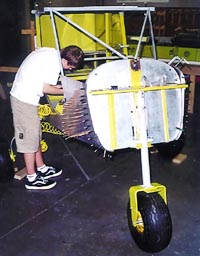 "This is the first time it has gone to a junior high," Kathleen Lopp, Washington Vocational Association executive director, said about the award's 20-year history.
Students took aluminum and using a building plan and the experience of Experimental Aircraft Association members, started cutting and forming pieces. This spring, those parts started looking like an airplane.
George Steed, president of the association, purchased the materials and plans and will own the plane when it's completed. With Steed owning the plane, students can get a ride in the airplane they built since regulations wouldn't allow rides if it were owned by the school district.
The airplane work is done after school, twice a week and will be continued this fall. While experienced students work on completing the STOL CH 701 airplane, new students will start the process of making parts for a second one.
"I think this is a real shot in the arm for the program," Bruce McBurney, director of the professional-technical education, said about the award.
Some of the things that stood out were the heavy involvement of the 15 members of the experimental aircraft association, the instructors being open to ideas from the group, the backing from the district and parent involvement, McBurney said. With all that going for the program, McBurney nominated it for the award.
"I just really felt it stood out," McBurney said. "I just think the whole thing is a quality program."
"What's nice is, on one hand it legitimizes the project," Steed said. Not that the project needs to be legitimized, he added, but many people still don't realize the group is building a real plane, not just a model.
"On the other hand it gives us more publicity, more visibility," Steed said, which can only help the program in continuing to grow. "An award of this kind, it tends to add a little weight to it."
The program not only helps kids in the program, but it provides opportunities for other kids in the schools as well, Steed said.
For example, Steed got an email from a man in Argentina who is also building a plane with school students. However, the letter was in Spanish. Steed handed it over to the Spanish class, they translated, Steed wrote a response and the class translated that into Spanish.
"Kids are really learning something here," Steed said. "It's really gratifying to be recognized, but the great thing is what it will do for the project."
---
Visit the Project SchoolFlight website: http://ckjh.cksd.wednet.edu/staff/airplane
(This is an excellent site on this project)

Visit Zenith Aircraft Company's Aviation Education Page

Additional reading:

"CKJH flying high over plane," by Andrew Hirsch, Central Kitsap Reporter, May 29, 1999.
"One Plane, Many Lessons," by Heidi G. Evans, The Sun, February 9, 1998, page A4.
"CK Junior High kids set sights sky-high," by Amy Wold, Central Kitsap Reporter, Sept 17, 1997
"Local EAA teams up with students," by Ann Vogel, The Sun, Oct 1, 1997
"Student-built plane takes shape," by Amy Wold, Central Kitsap Reporter, May 2, 1998
"On Wings of Discovery," by Lynette Meachum, The Sun, June 8, 1988

For more information on this project and/or to offer your support, contact:
George Steed, president, EAA Chapter 406
Email: georgesteed@wavecable.com
[Back]
NOTE: This article represents the viewpoints of the author, and not necessarily those of Zenith Aircraft Company.